I have not seen my mother in 14 months. Being an only child and coming from a single parent household, my mom has always been both mom dad and best friend. My goal for the last few months has been to have lost 100 pounds by the time she got here to visit me Feb. 10-14. After being sick and out of the gym I just didn't think it was going to happen. I had just accepted that I would have to be satisfied with coming close but not quite there... Well, I weighed in on Thursday and I DIT IT. I weighed in at 324 which means I lost 102 pounds!!!!! Oh man did that feel good. I seriously wanted to cry. I did it. Even when I made that goal, I didn't really think it was possible. It gave me something to push towards even if I knew it was out of reach. But I did it. I still can't really wrap my head around it, but I am SO excited to be setting a new goal. The new goal is weighing in at 250/176 pounds lost. I think 250 will be a big hurdle for me. Just being in the 200's is going to be a big deal, truth be told.
The other great thing is that in bootcamp class I am making strides. I am improving in so many little ways. I am starting to get to the point when I can feel in my body when an exercise is being done correctly. I can feel when my form is right. I know that sounds like a silly thing to be excited about but when you have never played sports or been active let alone physically fit, you dont listen to your body. You dont know how things should feel.
On another note I have something that I am VERY excited about! The Walk n Tone by L.A. Gear!
I was very interested in trying out some of these new shoes on the market. Either the Reebok easytone or the Sketchers Shape Ups. I did quite a bit of research online and then tried on both and was really not sure of how I felt... While my mom was here we went by kohls and found these little gems. First off- they are cheaper(Hooray!!) Then I tried them on and LOVED them! The thing I liked about the reeboks is that they made me light on my feet. They have two balls that force you to balance which is that works your muscles and tones you up.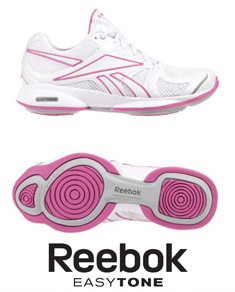 But the LA Gear Walk n fit has three balls that do throw you off balance but they distribute the weight more evenly and they dont allow you to put your weight on the outside edge of your shoe/foot.
I have always walked with my weight on the outside edges. Always. So my hips are never square and I have problems with both my feet and my lower back. Less now that I am 100 pounds lighter, but still uncomfortable. Well, I walked two miles total on Sunday in my new shoes and my stride was VASTLY improved! My hips were squared, I carried myself on the balls and heels of my feet. I cannot really attest to the toning aspect but for the simple fact that my walk is improved I am VERY excited about my new shoes!